Ultra Complete is a balanced, nutritionally complete meal. We designed this meal to help people eat healthily in an easy and convenient way.
All meals should contain protein, fat and carbohydrate, so Ultra Complete has all of these and most importantly, they come from healthy, nutritious ingredients. We also decided to pack Ultra Complete full of vitamins and minerals to ensure it really does contain everything and more than you would get from a regular meal.
Ultra Complete can be plant-based or whey protein based to suit your diet, it includes:
30g Protein
From grass fed whey or a blend of 5 types of plant-based protein. It contains a robust, complete amino acid profile.
36g Carbohydrate
This is gluten free and uses refined oats to provide slow release, low GI carbohydrate.
13g Fats
MCT powder derived from coconut and safflower to help blunt insulin release and supply important, healthy fats that are essential for optimal health.
400 Calories
This is a sensible number of calories for a meal, thought individuals may require different amounts depending on weight or their calorie goal.
An Ultra Complete serving listed above is based on 2 scoops and each bag contains 28 servings. You can reduce your serving size to one scoop if you wish. The best way to calculate your daily requirements is by using the Ultra Nutrition Macro Calculator to help you to identify your daily target and macros.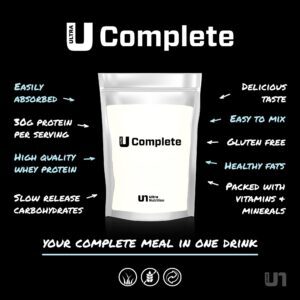 Ultra Complete is perfect for weight loss
Having Ultra Complete to replace a meal is great for people who are trying to lose weight. Simply swap it for a meal that was previously not so balanced, or a time when you might reach for convenient food that might not be so healthy. These drinks are packed with protein and fibre which combined with a serving of healthy fats will ensure you stay feeling fuller for longer and don't have any cravings for unhealthy snacks.
We have had feedback from people who are busy doctors, builders, managers who travel across the UK and they say that Ultra Complete is a brilliant way to stay healthy when they are on the go and very busy.
Ultra Complete is ideal for Athletes
If you are a serious exerciser and you want an easy convenient way to get more nutritious calories into your diet, then Ultra Complete will work for you. Add it in as an extra meal, using one, two or three scoops to match your requirements.
Whatever your goal Ultra Complete is a great tool to have in your cupboard, car or gym bag. It tastes amazing, it's convenient and most importantly nutritionally complete.